SMS polling flips the marketing script. It shines a spotlight on your customers and asks them, "So, what do you think?" It's a simple enough concept, but there's more to this text message marketing technique than meets the eye.
Curious about how your business can use SMS polling? Let's take a look at what it is, how it works, and what it can do for you.
What is SMS Polling?
SMS polling or SMS voting is a fun and effective way to discover what your customers and fans are thinking. Here's an example of how it would work for you if you were say, the owner of a boutique cupcake shop.
Imagine your bakers have been dreaming up some pretty innovative new flavours and you're starting to get a little nervous as the frosted creations get stranger and stranger.
You want to make sure the next batch of treats is one that customers will actually try, so you won't be left with a dumpster full of spoiled cupcakes.
This is a perfect situation for SMS polling.
You print up a special sign and hang it in your shop for a month. It reads:
Which flavour should we bake next month? Dark Chocolate Bacon, or Cucumber Lavender? Cast your vote by texting BACON or LAVENDER to 647-424-2144
You receive an overwhelming response and when the results are tallied, Dark Chocolate Bacon is the clear winner.
You can then text your subscribers to let them know the results and to tell them that you'll be debuting the new flavour in three days.
You even give them a promo code that they can show at the register to get two free cupcakes when they buy a dozen.
On the day your new flavour debuts, there's a line around the block. All the hype and booming sales, they're all the direct results of SMS polling.
SMS polling doesn't just help bakery owners – politicians, sports teams, nonprofits and many other businesses can all use this form of text message marketing to connect to an audience, to hosts contests, to get feedback and to adapt to meet your consumers' needs. Let's take a look at how SMS voting can be used for events.
SMS Polling in Action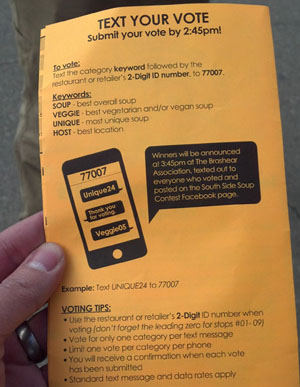 Each year in February, restaurants in the South Side neighbourhood of Pittsburgh open their doors for the annual South Side Soup Contest. The event invites soup lovers to take a walk down Carson Street to visit participating restaurants and sample their best soups. Then attendees are asked to vote for their favourite soups in several categories.
Prior to 2012, the contest used paper ballots that were collected and tabulated at each location, then given to the event's organizers to determine the winners.
The process required a great deal of time and effort from volunteers. Many a bowl of soup grew cold as a volunteer bent over a stack of papers with a calculator. Ballots were lost or misplaced, and most attendees chose not to vote at all.
Then in 2012, the South Side Soup Contest decided to try SMS polling to solve their issues. Each soup was given a special ID number, and attendees could vote for their favourites in four separate categories by texting the numbers to a designated shortcode. As the results came in, participants and volunteers could watch the soups battle it out in real-time (on a web dashboard, that is – not literally) until the winner pulled ahead.
Participation shot up from 12% the year before to nearly 70%. Volunteers loved the SMS polling because it saved them hours of work and frustration, and participants were happy to receive a text announcing the winning soups instead of having to remember to check Facebook or the website days later. All around, this was a definite success story for SMS polling.
Things Only SMS Polling Can Do
Why does SMS polling work so well? Because it accomplishes goals that other methods of data collection simply can't. Here are just a few examples:
Paper Polling. We talked about this with our South Side Soup Contest example, but let's get a little more in-depth. Here are some of the reasons SMS voting is better than paper polling:
Paper ballots can be lost.
Scores on paper ballots can be miscalculated.
SMS voting doesn't require a large team of volunteers to gather ballots and tabulate scores – everything is done automatically through text.
Participants find texting easier and more accessible.
No trees need to be cut down to make your digital ballots. (We just had to throw that one in there.)
QR Codes. Users with smartphones can scan QR codes to take a survey or cast a vote, but SMS polling is a far better technique. Here's why:
Not everyone has a smartphone with an Internet connection, but most people have cell phones with texting capabilities.
Even those with smartphones must first download an app to decode QR images.
To conduct a poll via text message, you don't need an image as you do with QR codes, so you can announce your contests over a microphone or radio broadcast and don't have to waste money on printing codes.
Online Surveys. Some businesses and organizations rely on online surveys instead of SMS polling. Here's why they're making a big mistake:
SMS polling is a much better way to reach an audience on the go or at your location.
An online survey won't automatically add participants to your text message marketing subscription list.
As you can see, these other forms of data collection just don't stack up to SMS polling. And text message marketing is so versatile that the uses for SMS voting are almost limitless.
Who Should Use SMS Polling?
Now that you know what SMS polling is, how it works, and why it's better than other forms of data collection, you may be wondering if it's right for you (hint – it probably is).
If you're unsure, here's a quick list of just a few of the people and organizations that can use SMS voting to their advantage:
Politicians. Get feedback from supporters on how they feel about current issues and your campaign.
Event hosts. Poll live audiences to get real-time results for contests.
Nonprofits. Get feedback on fundraiser themes, or ask supporters where they'd like to see you focus your efforts.
Sports teams. Make games interactive by polling the crowd with sports trivia.
Restaurant owners. Learn which dishes your patrons like best, and which new foods they'd most like to see on your menu.
Small business owners. Ask customers to rate their favourite products or in-store deals.
Can you see yourself in one of these categories, but aren't sure how you'd use SMS polling to boost sales or build support?
Contact us today and we'll brainstorm with you. And if you already have an idea and you're ready to go, we'll help you set up your first SMS voting campaign quickly and easily. We love seeing the impact that effective text message marketing strategies can have on businesses, events and causes.
Have you had success with SMS polling in the past? Tell us about it in a comment below.