Listing your business on Google is a major step towards having a complete online presence, but it doesn't end there. Even though a Google Business Profile (formerly Google My Business) is not a social profile per se, it needs the same amount of nurturing.
You need to make sure that the information on the listing is up to date, you have to respond to customer messages and reviews, you should regularly post updates, events, and offers, but most importantly, you must regularly add new photos of your business.
The internet is very visual and so must be your first impression.
Uploading photos to your Google Business Profile is necessary not only for the appearance but also to give your business an SEO advantage.
According to Google, businesses that add photos to their Business Profiles receive 42% more requests for directions on Google Maps, and 35% more clicks through to their websites than businesses that don't.
DigitalMaas conducted an experiment in 2020 and concluded the same thing. Businesses that regularly upload photos on their listings receive more clicks in actions and appear more on search results than their competitors.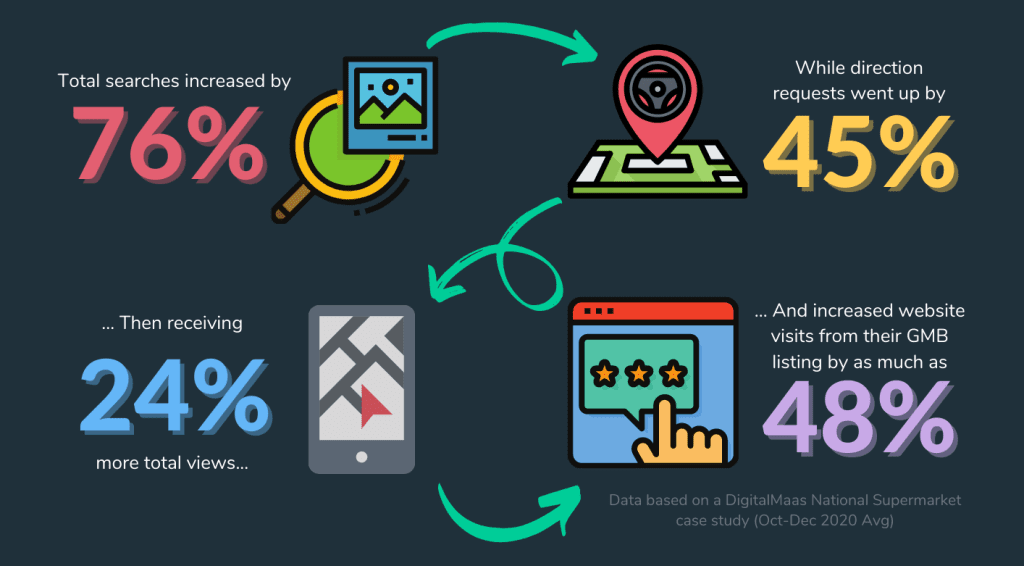 How to upload photos to Google Business Profile
You can add new photos for your listing using the Google Business Profile Manager, but first, make sure that your listing has a Cover and a Logo. They're the ones that will appear first on Google Maps and Search results.
You can then add new photos using the "+" button on the top right corner. To add photos to a specific category, make sure to switch to that category first, using the filters at the top.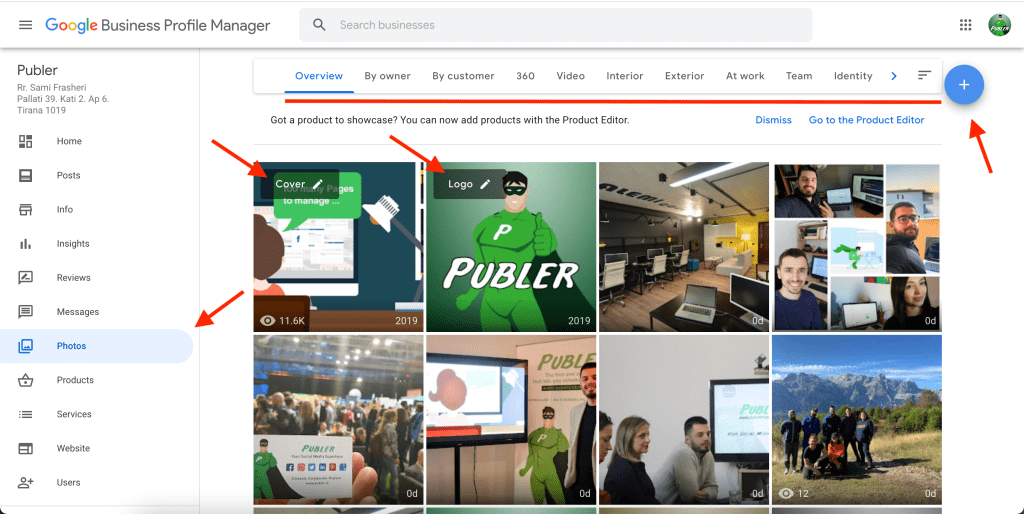 Besides the owner of the business, customers can also add photos to the listing. This is especially helpful for other customers because it provides a genuine look at your business.
While this is helpful for you as it allows you to gather more shots and have fresh content rolling in, it comes with a small risk. Customers may not always upload relevant content, but you can easily flag them and Google will take action within a few business days.
Google Business Profile Manager you will be able to see how many times your photos have been viewed and how your business compares with other businesses on Google.
As the saying goes, with great power comes great responsibility, so make sure to read the following tips and warnings…
Do's and Don'ts
While you can't control the photos that your customers upload of your business, you're in full control of your actions. Here are some tips on how to use Google Business photos properly.
Do:
Use real quality photos
While your photos need to look crystal clear, you shouldn't go crazy with image editing. Google may penalize them if they don't look real. Professional photographers are nice to have, but not mandatory. With a little practice and some good lighting, you should be able to produce decent-quality images using your phone. In a phew words, you need to attract your potential customers, but not disappoint them when they visit your business.
Make use of categories
There are several different categories that Google has come up with, such as Exterior Photos, Interior Photos, Product Photos, and Team Photos. Try to have at least 3 photos for each category that is relevant to your business.
Add photos regularly
Google is so anxious to get your photos they even add charts in their insights reports to show how you compare to similar businesses (see the screenshot above). Try to represent your business thoroughly with lots of photos from different times of day and angles.
Don't:
Don't delay adding photos
If you don't add photos of your business, Google will show the maps street view as a default. No one will know whether your business is real and active.
Don't use screenshots, stock photos, GIFs, other manually created imagery
To be relevant, photos or videos must be taken by users at the location in question. If the primary subject of the content is irrelevant to the location, it may be removed.